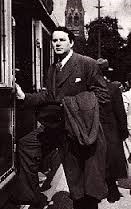 The Thomas Wolfe Society held its first conference in 1980 to honor the writings and life of Thomas Wolfe, 1900-38, acclaimed American author of such novels as Look Homeward, Angel, Of Time and the River, The Web and the Rock, and You Can't Go Home Again.  The Society welcomes all admirers of Wolfe's fiction and meets yearly at locations across the U.S. and abroad.  Recent past meetings have taken place at Indianapolis, IN, Asheville, NC, Albany, NY, Chapel Hill, NC, and Savannah, GA. International meetings have been held in Munich and Paris.  The 2018 conference will be held on 1-2 June 2018 in Charlotte, NC; for more information about the next conference, click here.
To read Thomas Wolfe Society President Rebecca Godwin's January 2018 letter, click here.
To become a member of the Thomas Wolfe Society or donate to support its various activities, fill out the accompanying membership form.  Mail the completed form with your check made out to The Thomas Wolfe Society to TWS Membership, P.O. Box 1146, Bloomington, IN 47402-1146.  
To pay your membership or make a donation electronically, click on the Donate button below and enter the appropriate amount.  Then email your contact information to: twostrange2000@yahoo.com.